Drill speed is a crucial factor that affects the quality of a hole and in preserving the life of your drill bits. Different drill bits require different speeds to achieve the best results. If the speed is too slow, the drill bit will struggle to penetrate the material, and can lead to poor quality holes. On the other hand, too high a speed can cause the drill bit to overheat and lose its sharpness, leading to a poor finish or even breakage. Therefore, it is crucial to adjust the drill speed according to the size and material of the drill bit to ensure maximum performance, efficiency, and safety.
This chart shows recommended operating speeds (in RPM) for many different drill bits.
Bit Size

Softwood

Hardwood

Acrylic

Brass

Aluminium

Steel
Drill Speeds for Acrylic, Brass, Aluminium and Steel NOT visible on mobile devices
Bit Size

Softwood

Hardwood
NA = Not a recommended drill bit for material
Recommendations are based on visual and tactile tests under workshop conditions.
Drilling faster than recommended can cause overheating.
Speeds slower than recommended may cause poor quality holes.
All wood testing done on face grain. Reduce speeds when drilling end grain.
Speeds based on new bits from the factory.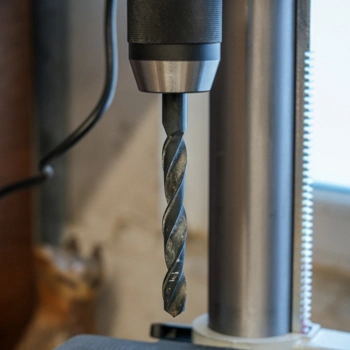 Add cutting oil to your drill bit when drilling steel that's 3mm or more.
To prevent your drill from wandering, use a center punch on all holes.
Lift small drill bits regularly to remove debris and avoid overheating.
Lift small drill bits regularly to remove debris and avoid overheating.
Take your time with bigger bits, and make several shallow cuts, allowing them to cool down between each cut.
May not be suitable for dense hardwoods, such as Maple.
Not all holesaw's can be used with metal.
Clamp work down, to improve quality of hole.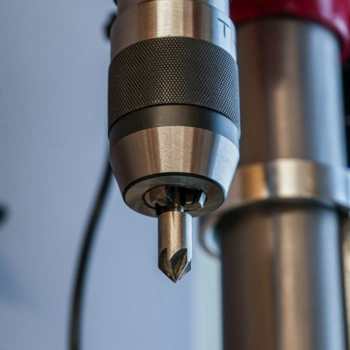 Raise and lower frequently for quicker
cutting.
Cut to full depth, so that bit chamfers the plug.