We've put together a list of what we consider the best woodworking tool shops in the UK. If these shops don't have the tool you're looking for, then nowhere will.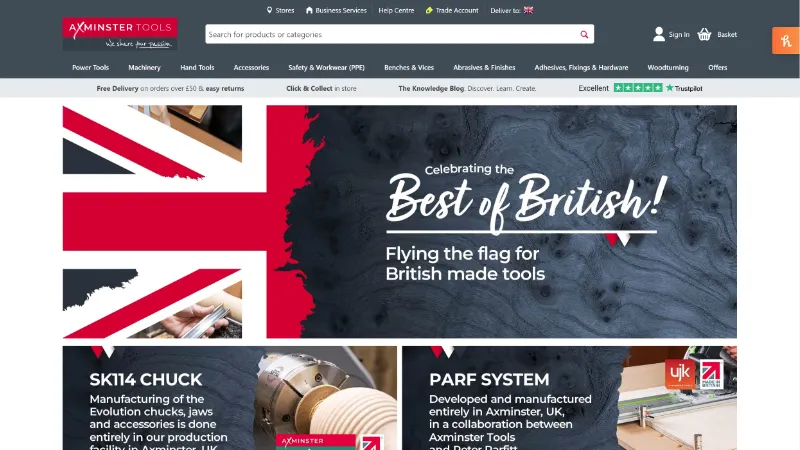 Axminster Tools and Machinery is UK's go-to location for all woodworking tools. They stock everything you could ever need from hobby tools, all the way up to commercial workshop equipment. They're priced competitively, though they don't sell low-end tools which we see as an advantage. "If Axminster Sell it" then you know it's a good tool. They also have excellent sales and after sales support.
They offer power tools, machinery, hand tools, accessories, PPE, benches, wood turning. Basically everything!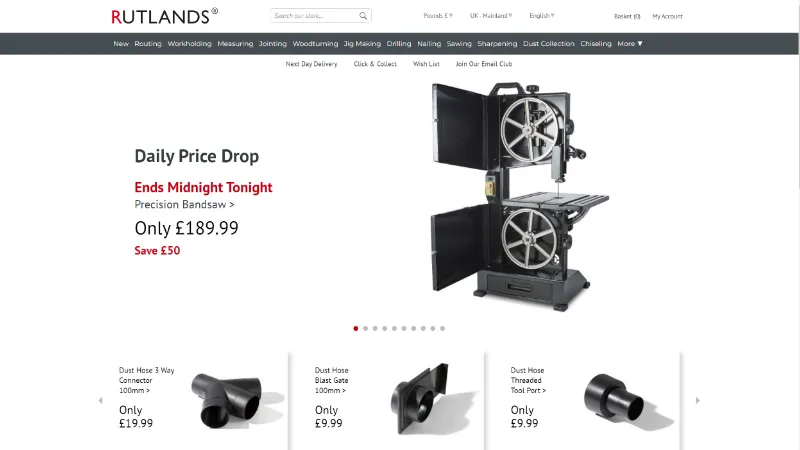 Rutlands sell self-branded tools; whilst they can't be regarded as high end tools, they are often better than average and are well worth consideration. We have a number of their tools in the workshop, and for the most part we are impressed.
However, we have had a few duds, either due to poor manufacturing or poor design. The customer service team are excellent about this and will correct without quibble. However we have noticed a recent and worrying trend for unfavourable reviews not to reach the website. Always a very worrying sign.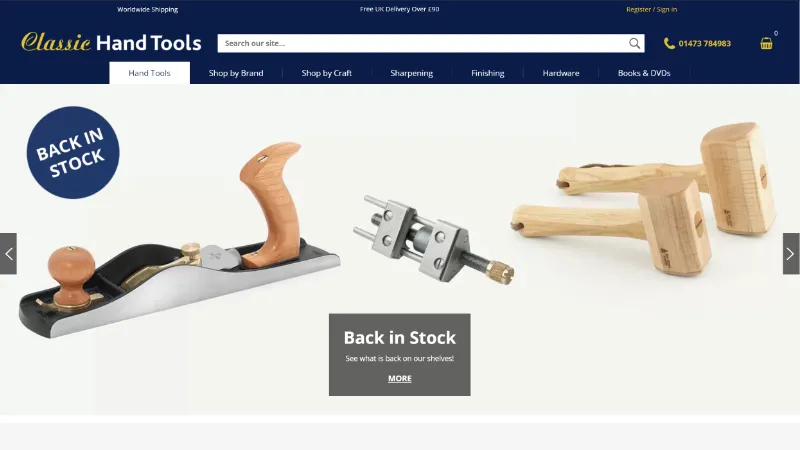 Not a shop we use often, but we've heard very good things. The tools they sell are more expensive, but only because they only sell quality, and they are a small team. If you are looking for a nice hand tool, or something a little different, this could be your answer.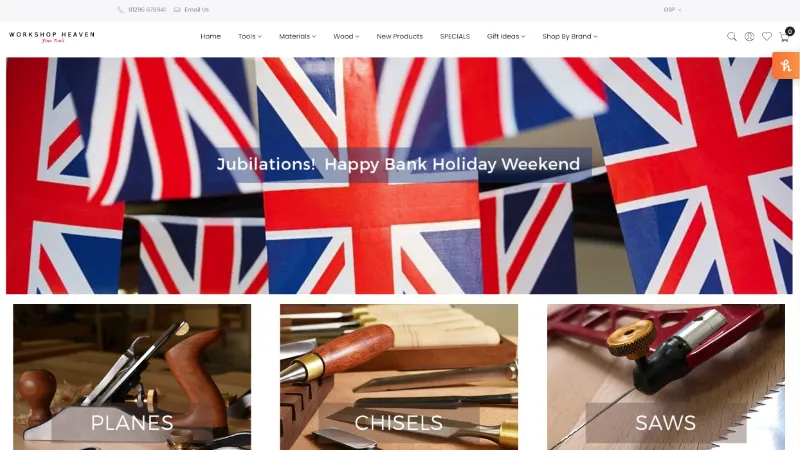 Similar to Classic Hand Tools, but for the more budget conscience. Still good quality tools and a good selection.
This shop has a smaller range than the likes of Axminster or Rutlands, however they do stock some brands that can be hard to find elsewhere and occasionally have some great deals on tools and the like.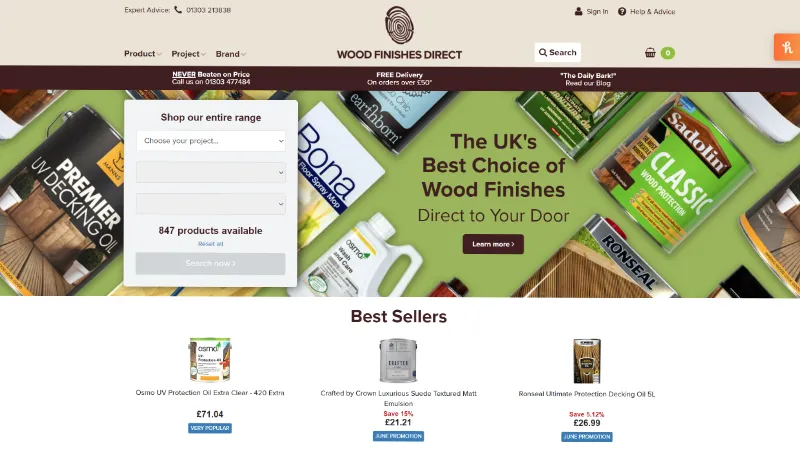 For wood finishes, this is the place to go. They should have a finish to suit any need and priced competitively. They also have great customer service and are happy to answer any questions you might have. Also, check out their YouTube channel for more tips and advice.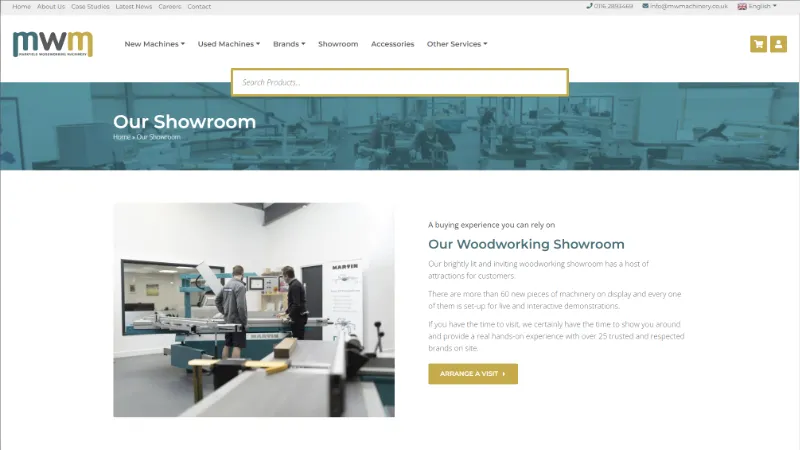 An independent woodworking machinery stockist of new & used woodworking machines. You won't find any hand tools, or many benchtop tools here. But what you will find is professional and commercial grade machines.
Really nice to see what the professional outfits use, but there are also some really nice average joe range of tools that can be hard to source elsewhere. Also as a bonus, they have a showroom, where you can see many of these incredible tools in the flesh.
You can't mention tool shops and not mention Screwfix, though I recommend them with caution. The prices are very competitive, and customer service is good. Which may come in handy, because alongside selling quality tools, they also sell low grade tools which won't last long and will likely not work very well while they are working! Having said that, Screwfix are still an excellent option provided you do your research. Particularly recommend them for hardware and fixings.
For hinges, handles and latches. They are a good company who ship quickly and helpful on the phone. Though some items aren't of the best quality for woodworking projects.
For precision screws, nuts and assembly hardware. They can even machine custom machine screws for you if you order enough. They deliver fast and the parts are of the best quality, though postage is expensive on smaller orders.
For ball bearings. We rarely have a need in woodworking, but maybe you'll need to replace a part in your tool one day. You can find any bearing you could ever want here.
Not So Honourable Mentions
We don't want to be negative, but it's our opinion that these shops aren't doing the best by their customers.
Machine Mart
We would NOT recommend this shop, unfortunately, this is the sort of shop that thrives on selling tools that can only be described as disposable. Yes, they are cheap, but are they good value? Having said that, we do enjoy using their Clarke toolchest. Ha!
B&Q and Wicks
Unfortunately, these have become the go-to shops in the UK for all DIY needs. I say unfortunately, because we believe they are perpetuating the idea that product X can be bought for £10 when it should really cost £15. The reality of this, are landfills filled with junk tools that break quickly and hardware that feels flimsy. Even worse is the growing acceptance that this is normal. While we all love a bargain, these 'budget' products are often a false economy.
It is also always worth checking out their sister store Screwfix for hardware and fixings, often you'll find the same products for a better price. Also, if looking for timber, you'll find a better range at better prices in a proper timber yard.
Big Box Stores need not reduce themselves to selling so much landfill fodder, in Australia you have Bunnings and, in the USA, there is Lowes. They have a similar approach to our UK counterparts, but often, items are better quality and better value. Why do us Brits have to settle for 'that'll do'?
No doubt we will all shop here again, it's just too convenient. But I urge you to explore the above options first. The chances are you will find products that represent much better long-term value.